Underrated America: 22 overlooked destinations worth a visit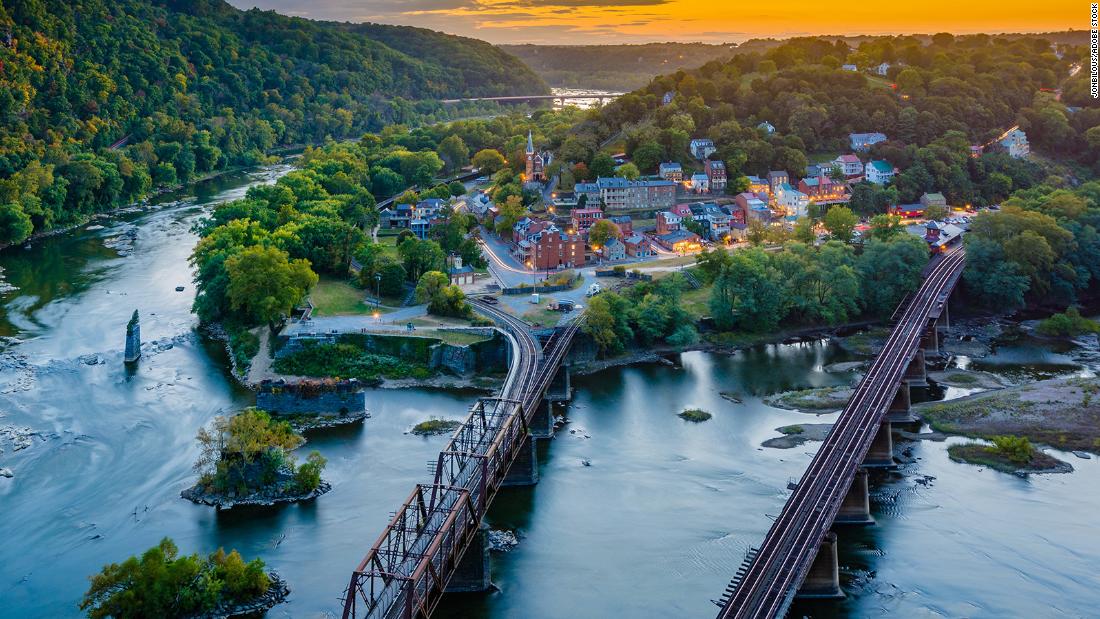 (CNN) — Disney World, Times Square and Yellowstone National Park can be packed to the rafters with tourists. But there are plenty of other places across the United States that continue to fly beneath the travel radar.
While there are literally hundreds of locations that fit that description, here are 22 destinations — from cities and national parks to regions and even entire states — that remain refreshingly underrated despite the surge in travel this year. They're listed geographically from the Northeast to the Pacific.
Central Massachusetts
Block Island, Rhode Island
Unlike the other big isles off southern New England, this offshore slice of the Ocean State has gone the extra mile to preserve its natural environment. In fact, the Nature Conservancy declared the petite isle one of a dozen "Last Great Places" in the western hemisphere.
Beaches, biking and trekking 32 miles of coastal and inland trails are the main daytime activities. After dark, the island boasts a surprisingly good food scene and laid-back bars like Captain Nick's, Yellow Kittens and the Poor People's Pub.
Buffalo, New York
Pennsylvania Wilds
From abundant wildlife and untamed mountain streams to the old growth trees of the Forest Cathedral and Pine Creek's gaping Mid-Atlantic version of the grand canyon, there's still plenty of wild in north-central Pennsylvania.
West Virginia
Durham, North Carolina
Cumberland Island National Seashore, Georgia
Georgia's largest barrier island blends beach fun and outdoor adventure with copious wildlife and famous American families.
Florida's Forgotten Coast
Fresh-off-the-boat shellfish and live music are the twin attractions of the St. Mark's Stone Crab Festival (October) and Florida Seafood Festival in Apalachicola (November).
Ouachita Mountains, Arkansas
Unlike the nearby Ozarks, which boast manmade ways to sample nature and culture, the Ouachitas are exceedingly untouristy. That makes these mountains ideal for those who like their hiking, camping and fishing with a large dose of solitude.
Oklahoma
Oklahoma City flaunts a surprisingly rich and varied food scene, especially the eclectic Paseo, Plaza and Uptown 23rd neighborhoods and the Asian district.
Kansas City, Missouri
Southern Illinois
Lake Superior
The American half of the world's largest freshwater lake (by surface area) stretches across northern Michigan, Wisconsin and Minnesota, a vast expanse of water, trees, islands and wildlife that rivals anything out west.
Anglers can cast for 86 fish species that inhabit the lake, while divers have scores of historic shipwrecks to explore. For those who just want to glide through, half a dozen major cruise lines include Superior in their Great Lakes itineraries.
North Park, Colorado
Located around a three-hour drive northwest of Denver, the broad highland valley lies between the snowcapped peaks of the Medicine Bow Mountains and Park Range in one of the state's least populated corners.
White Sands National Park, New Mexico
Visitors can hike across or sled down the bright-white dunes. If you didn't pack your own toboggan, the visitor center gift shop sells/rents plastic discs. Overnight backpack camping is available along a sandy wilderness trail.
West Texas
In frontier days, Texas west of the Pecos River was the epitome of the Wild West. An image that was later bolstered by classic movies like "The Searchers," "Giant" and "No Country For Old Men."
Grand Staircase-Escalante National Monument, Utah
The park takes its name from the remote Escalante Canyons and a sequence of huge plateaus that descend like a giant staircase between Bryce Canyon and Zion. Supervised by the Bureau of Land Management, GSE offers plenty of scope for wilderness hiking, camping and mounting biking.
Tacoma, Washington
Channel Islands National Park, California
But its forte is raw nature. Whales, dolphins, sea lions and sea otters frolic in the waters around the park, while the islands provide a terrestrial habitat for super-rare flora and fauna species like the Torrey Pine and Island Fox.
Only around 30,000 people set foot on the islands each year. For those who make the ferry crossing from Ventura Harbor, there's scuba diving, kayaking, hiking and backpacking — often in total solitude.
San Luis Obispo, California
Two factors were responsible for the turnaround: the evolution of world-class wine regions in nearby Paso Robles and the Santa Ynez Valley, and the transformation of downtown SLO into a lively social and shopping hub for the 22,000 students at Cal Poly SLO university.
Craft breweries, reasonably priced restaurants and one-off boutiques are all the rage in a city that also offers a historic Spanish mission, Coastal Range hiking and biking, and the seaside at Morro Bay and Avila Beach within a short drive.
Kaʻū District, Hawaii
Virtually untouched by modern tourism, the district is celebrated for its dramatic black and green sand beaches, tropical fruit and coffee farms and popular Punalu'u Bake Shop.
Matanuska Valley, Alaska