Travel tips for flying with a baby in 2023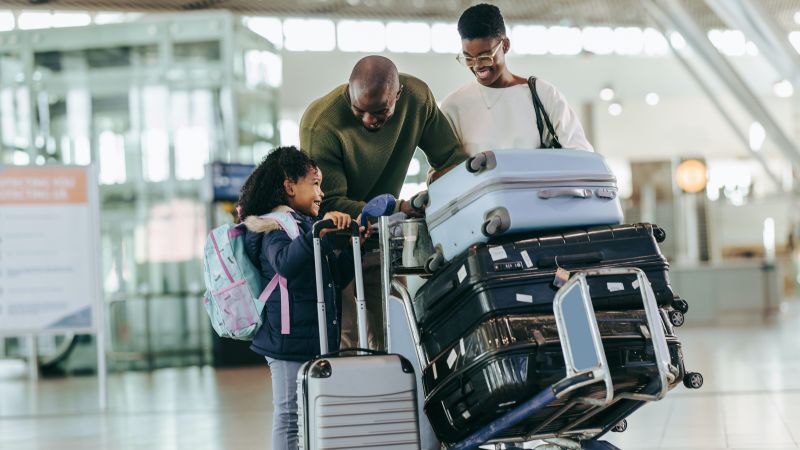 With flight delays, cancellations, hotel mix-ups and road traffic fast becoming the norm, summer is among the busiest travel seasons for families. Be prepared for anything with this time-tested advice from parents who've been through it all while traveling with kids.
With a little organization, the right gear and a positive mindset, your summer family travel plans might lead to your best family vacation yet. Whether it's your first time traveling with kids or your family is a group of road warriors, it never hurts to be prepared.
We spoke with parents to find out what they recommend to make for a more stress-free — and enjoyable — travel journey with kids in tow.
Ask any parent what their greatest wish is when traveling with kids and they'll likely say, "When my baby snoozes as much as possible." This is especially true during long-haul flights, but that's not always easy when it's hard for them to stretch out.
Sometimes referred to as inflatable footrests, air travel mattresses extend the length of an airline economy seat or sit on the ground between seats, creating the perfect spot for little ones to snooze. "When my daughter was a baby, an inflatable bed made for airplane seats made a huge difference, but keep in mind that most, but not all, airlines allow them," says attorney Gina Polo, who recently returned from a 10-day trip to Spain with her toddler.
If your little one still rides in a stroller, experienced family travelers recommend a compact stroller that fits in the oversized bin.
"Any other type of stroller gets checked at the gate and once when we arrived late to our destination, we had to pick it up at baggage claim, which was a long walk," Polo says. Alternatively, when gate-checking your stroller, you can run into issues such as it arriving back into your possession damaged or broken.
The best travel strollers are lightweight, more compact and often easier to close than your everyday stroller.
When you're traveling by road — even if that means hopping in an Uber once you arrive at your destination — you'll want to have a car seat with you.
"We have a travel car seat that only weighs 8 pounds and has backpack straps, so it's easy to carry around," says musician Richard Rey, a father of four. "Sometimes waiting for an Uber with a bulky car seat can be daunting."
The best travel car seats are compact and lightweight enough to carry through the airport, and many are approved for use on planes by the Federal Aviation Administration (FAA). You'll want to find the right option for your child's age and needs.
Airport travel doesn't have to be stressful when it comes to carrying all of your gear around. Kids as young as 3 years old can tote their backpacks, loveys and more.
"It makes them feel big and in charge, and it's less work for you," says family therapist and mom of two Tania Paredes. Just be sure to choose a kids travel backpack or piece of luggage that's made for their size so it's easy for them to carry. Look for lightweight but sturdy designs made of durable fabrics.
Traveling with a favorite toy to keep kids entertained and comfortable is great, but their familiarity with it means they may become bored long before you make it to your destination. Instead, bring a game or toy they've never used before, which might hold their attention longer.
The best travel games are easy to transport — and clean up. If your kid's favorite in-flight activity is to make a mess, be sure to clean it up before you depart the aircraft.
Packing cubes are great tools for travelers of all kinds — and that means for family travel too. They help save space in your luggage and keep items separated, making it easier to track them.
Buy a set of six cubes (or more!) and fill them with your child's outfits for each day. Doing the hard work of outfit planning at home means you'll save time getting them dressed on vacation. You can also use the packing cubes to keep items like socks and underwear together so they don't get lost in a larger suitcase.
Don't be afraid to go off the beaten path just because you have kids, says James McAnally, general manager at Beaches Turks & Caicos and father of twin 13-year-old girls. "Trying something new together and discovering the world through your kids' eyes always makes for the best memories," McAnally says.
He recalls a favorite family vacation spent rafting with his girls when they were much younger. "The thrill on their faces was priceless."
If any one of your children is small enough to fit in a carrier, it's worth traveling with a lightweight carrier that folds down easily. "It keeps your hands free, and for many babies, it gives them a feeling of calmness in the middle of chaos," says Sandra McLemore, travel industry expert and in-flight TV host.
Having the right headphones is extremely important for younger travelers on longer journeys. This is especially true if you're traveling by plane, says Keri Baugh of the travel blog Bon Voyage With Kids. "We bring two — one pair that is wireless for the iPad and one set with a cord to plug into the TV if there is one on the plane," says the mom of three.
The top tip we heard over and over from parents is to never underestimate the number of travel snacks you'll want to always have handy. Hunger can ruin a whole day, not just a mood, so keeping hunger at bay is key.
You know the adage "Safety first," but there's a difference between having a couple of basic Band-Aids and having ointment for scrapes when your child is having a meltdown.
Look for compact kits that include everyday children's medicine as well as some lesser-thought items. If one of your offspring needs pain relief from pesky bug bites, for example, consider itch ointment. After all, who wants to search for a pharmacy in an unfamiliar place at night?
Looking for a new travel credit card? Check out CNN Underscored's list of the best credit cards currently available.