Master-planned development brings culinary options to Surrey Centre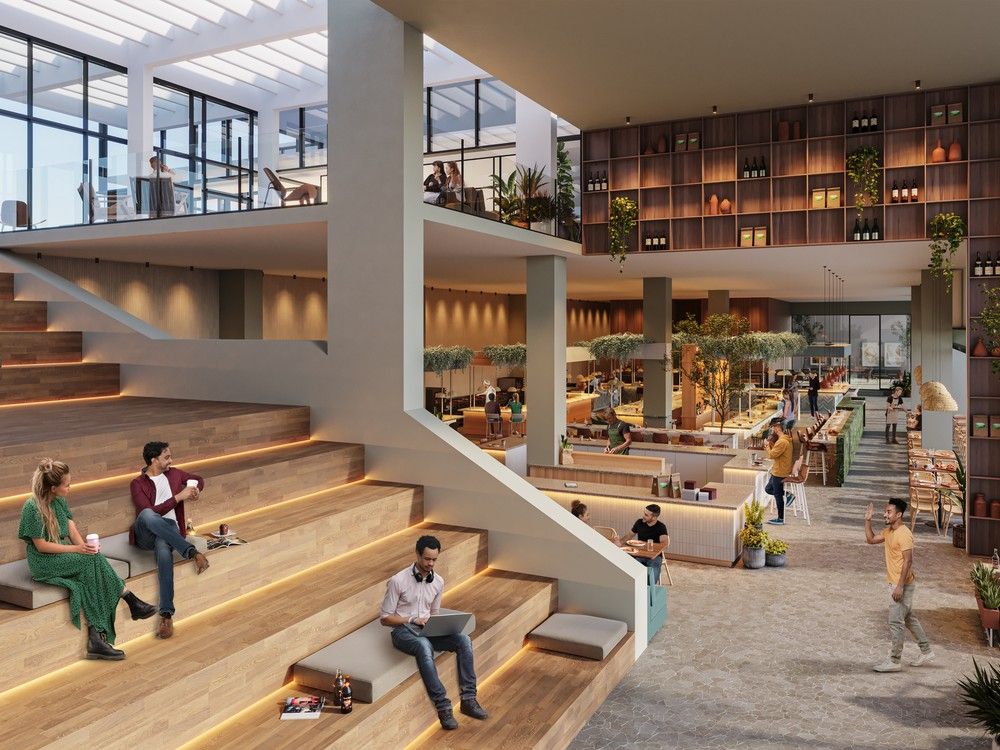 Century City Holland Park will be centred around a food-market hall and outdoor courtyard.
Reviews and recommendations are unbiased and products are independently selected. Postmedia may earn an affiliate commission from purchases made through links on this page.
Article content
Sharing a meal. Having a meetup over a cup of coffee or a glass of wine. Food and drink bring people together in a convivial way that makes and reinforces social connections. Sean Hodgins and his team at Century Group recognized that creating a culinary hub would be a unique unifying concept for their four-building master-planned community in Surrey City Centre, especially in a location where restaurant and retail food options were limited.
Article content
The result is Market Hall, a food-based retail centre, in one of the two condo buildings comprising Century City Holland Park, along with a rental and an office tower that fronts onto King George Boulevard.
Article content
"Our whole vision as a company is place-making," says Hodgins, president of Century Group. "It's what a lot of real estate companies aspire to do, and we've really drilled down to be a leader in connecting people through a food-based sense of place. Often times people come together around, you know, 'let's go grab a coffee and talk this out. Let's have lunch together.' It's that informal and formal coming together around food, sometimes growing food, like the community gardens we've done at Southlands."
The Market Hall isn't just envisioned as an amenity for the project's residents but also for the community at large, as is the restaurant Century Group is opening in the market rental tower.
Article content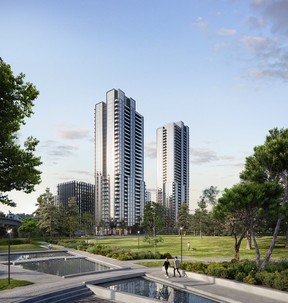 "In the rental building, we've created our own concept for a restaurant called Combine, a café and bar. So we've curated that," Hodgins says. "We've developed that brand ourselves."
Combine, designed by Ste. Marie Studio, which also created the project's residential interiors, will open when the rental building is completed. Hodgins notes that though another project across the street integrated more retail for the area, there's still a need for more given the demand from residents, the close proximity of the university and the hospital, and those who work in surrounding office buildings.
"There's really still a dearth of good food options in the city centre," Hodgins observes. "We really think there's a wider market of people looking for good food and beverage options. Combine isn't just to serve the residents; it's for the whole city."
Article content
Even with the expansive 25-acre Holland Park on Century City's doorstep, access to nature and outdoor living is reflected in every unit having its own balcony, a communal rooftop terrace and meditation space and a lush central courtyard that offers agricultural opportunities for residents.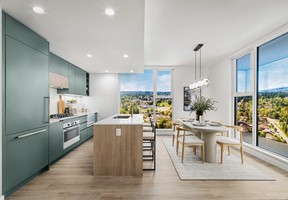 "In the central courtyard, we've incorporated a greenhouse," Hodgins notes. "We thought we better put in a greenhouse. We want the ability to grow and certain all-season agricultural or gardening opportunities."
The first three floors of the 39-storey tower of one and two-bedroom homes feature an extensive range of communal amenities that include an outdoor kitchenette, a fitness centre, a yoga room, a co-working space, a dining lounge, an outdoor shade garden, a dog wash station, bike storage, among others.
Article content
The units' interior floorplans centre around the kitchen as the heart of the home — with an island in each one.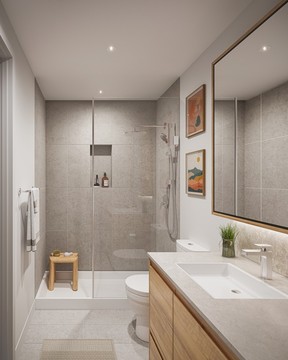 "The dining and the kitchen space is your most used space," Hodgins asserts. "If you're working from home, you'll probably work from your dining room table. Your kitchen and dining space is almost a default space. So we really tried to emphasize, especially in the two bedroom, that it was a very functional space. In the one bedroom, we don't have a separate dining room. We have the seated bar [at the island]."
With the experience of designing numerous restaurants in Vancouver like Savio Volpe, La Tana, St. Laurence and Flourist, the Ste. Marie Studio design team's approach seamlessly integrates attractive esthetics with functionality. A kitchen can look good but needs to function well, Hodgins says, and Ste. Marie Studio delivers on both counts. Hodgins adds there was a lot of synergy working with Ste. Marie Studio, as they understood the project as a whole and recognized that Century Group wanted something a bit different.
Article content
"I knew that I wanted colour," Hodgins says. "The trend has been going to just all wood: The light wood scheme and then the dark wood scheme… So we have a wood palette and then a colour palette. I think it looks good. A lot of people are choosing the more colourful palette."
The kitchens are ultra-sleek with quartz countertops and matching backsplashes with under-cabinet lighting, a unique herb garden shelf with a UV grow light, and upscale Fulgor Milano appliances—all imagined with the idea of people coming together around the island to share an evening meal or celebration. All of which circles back to Hodgins' focus on food as a unifying concept. Its genus is within our homes and then ripples out into our experience in the wider community.
Article content
Century City Holland Park
Project Address: 13571 98B Ave., Surrey, B.C.
Project Scope: A master-planned community, of four towers composed of two condo towers, one residential rental tower and one office building centred around a food-market hall and outdoor courtyard and featuring an extensive range of communal amenities. The first 39-storey condo building features 409 one-and two-bedroom homes and an additional five three-bedroom townhomes conveniently located near SkyTrain, universities, and the hospital in Surrey's growing City Centre.
Developers: Century Group
Architects: ZGF Architects
Prices: One bedrooms start at mid $500,000s; two bedrooms start at low $800,000s; and townhouse collection from $1,100,000.
Sales centre: 13571 98B Ave., Surrey, B.C.
Sales centre hours: Noon to 5 p.m. daily, except Fridays
Sales phone: 604-332-2176
Website: centurycitysurrey.com
Occupancy date: Estimated completion summer 2025
Kitchen appliances: The future is already here

Vancouver townhome reno a mix of 'saves' and splurges