Former London hotel opens as supportive housing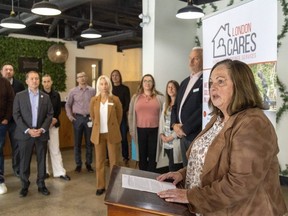 Two dozen Londoners with years of living homeless will begin moving Thursday into a novel 25-unit affordable housing building that offers much more than nice rooms.
Article content
Two dozen Londoners with years of living homeless will begin moving Thursday into a novel 25-unit affordable housing building that offers much more than nice rooms.
The building at 362 Dundas St. provides 24-hour social service staff, primary health care and meals, and is the result of the first partnership between London Health Sciences Centre (LHSC) and London Cares that represents one foundation of the city's new system for homelessness.
Article content
"This new system has created new hope, both for participants that we work with on the street and for our staff who've been faced with some of the most trying times and roadblocks as we face these multiple crises over the last few years," Anne Armstrong, executive director of London Cares Homeless Response Services, said at a news conference. London Cares is operating the building and services.
Eight women and 17 men, including six Indigenous people, will make up the first 25 people to move onto three floors of the the new facility starting Thursday, she said.
"They will find a new beginning and be out of the elements for the first time in many years," she said. "Many have been on the streets of London for more than 10 years. With such highly complex needs, housing has not been available for them. We have witnessed their health and well-being decline."
Many of the first 25 have spent time in hospital and have been discharged into a community without the intense supports they need, said Brad Campbell, corporate hospital administrative executive at LHSC.
In the new building, "they will have access to medical and support 24 hours a day, seven days a week to help them thrive and begin that transition from their current circumstance to independently living in the community," he said.
Article content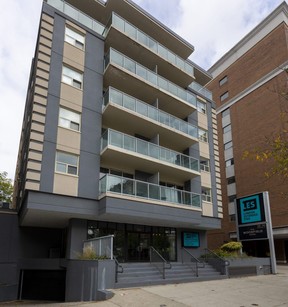 With a hospital bed costing $1,400 a day, it makes sense for LHSC to provide $1 million in funding and primary health care when needed to London Cares, Campbell said. London Cares also received a two-year grant from the London Community Foundation for staffing expenses.
The six-storey building just east of downtown used to be a hotel. Its rooms have been renovated and fully furnished for the new residents, whose monthly shelter allowances will help pay for accommodations.
"To be able to welcome someone who's been living on the streets for a number of years into this space and say, 'Welcome home' is such a powerful moment," Season Bieronski, manager of housing services for London Cares, said while giving a short tour of the building.
The units at 362 Dundas offer a range of options. Two rooms on the main floor, which has wider hallways, include lower beds, roll-in showers, lower door peepholes and other accessibility features for those using walkers and wheelchairs.
Some rooms have stoves and some do not, because some people have lived on the streets for so long they will need help learning how to purchase and prepare food, Bieronski said.
Article content
Sisters of St. Joseph will provide a hot meal each day, and staff will help residents get nutritious food and meals from other programs, she said.
"We encourage folks to decorate the spaces as they see fit, so it does reflect what they would feel home is," Beironski said.
"Anyone with pets is more than welcome to come, which is really important for folks as well, because so many of our individuals have dogs or cats living on the street, and there are many programs that aren't able to accommodate pets," she said.
Most units are one-bedroom, but there are two two-bedroom units on each of the three floors. Each unit has a heavy duty, key-pad, hotel-style security system for entry that can be overridden by staff in case of an emergency.
Related Stories
City council gives green light to first three homeless hubs

Everything you need to know about London's homeless hubs plan
London Cares is providing staff, at least two workers on-site 24 hours, and is working with Home and Support Community Services. Voyago Health will provide transportation to the building for residents once they're ready to move in.
Article content
London InterCommunity Health Centre will provide primary physician and nursing care on site, said executive director Scott Courtice.
Many of the residents are already patients of the centre's streetfront clinic, and some will continue to visit for some services, he said.
"But some people, just walking through the doors of a traditional health clinic is a barrier. They've not had a good experience with the health system. So, being able to meet people where it's most comfortable for them is a huge deal," he said.
The idea for the partnership between LHSC and London Cares began with a simple conversation at the first of three summits last fall, called by city hall and health care institutions to tackle London's homelessness crisis, Armstrong and Campbell said.
Amid an increasing number of desperate people living and dying on the streets, media criticism and a hunger strike and protest by front-line workers, about 200 representatives from 70 organizations met during the fall and winter at the summits to develop what's officially called the health and homeless whole-of-community system response.
Article content
The system change, proponents say it's much more than a plan, is aimed at helping about 600 homeless Londoners with the most complex physical and mental health needs.
The system rests on two foundations, the creation of up to 15 hubs that provide 24-hour shelter, social services and health care and 600 affordable housing units with wrapround support.
The first three hubs and 100 housing units are set to open up this year. The 25 units opening Thursday brings the total so far this year to 69, a health and homelessness system spokesperson said.