8 tips on how to travel solo in retirement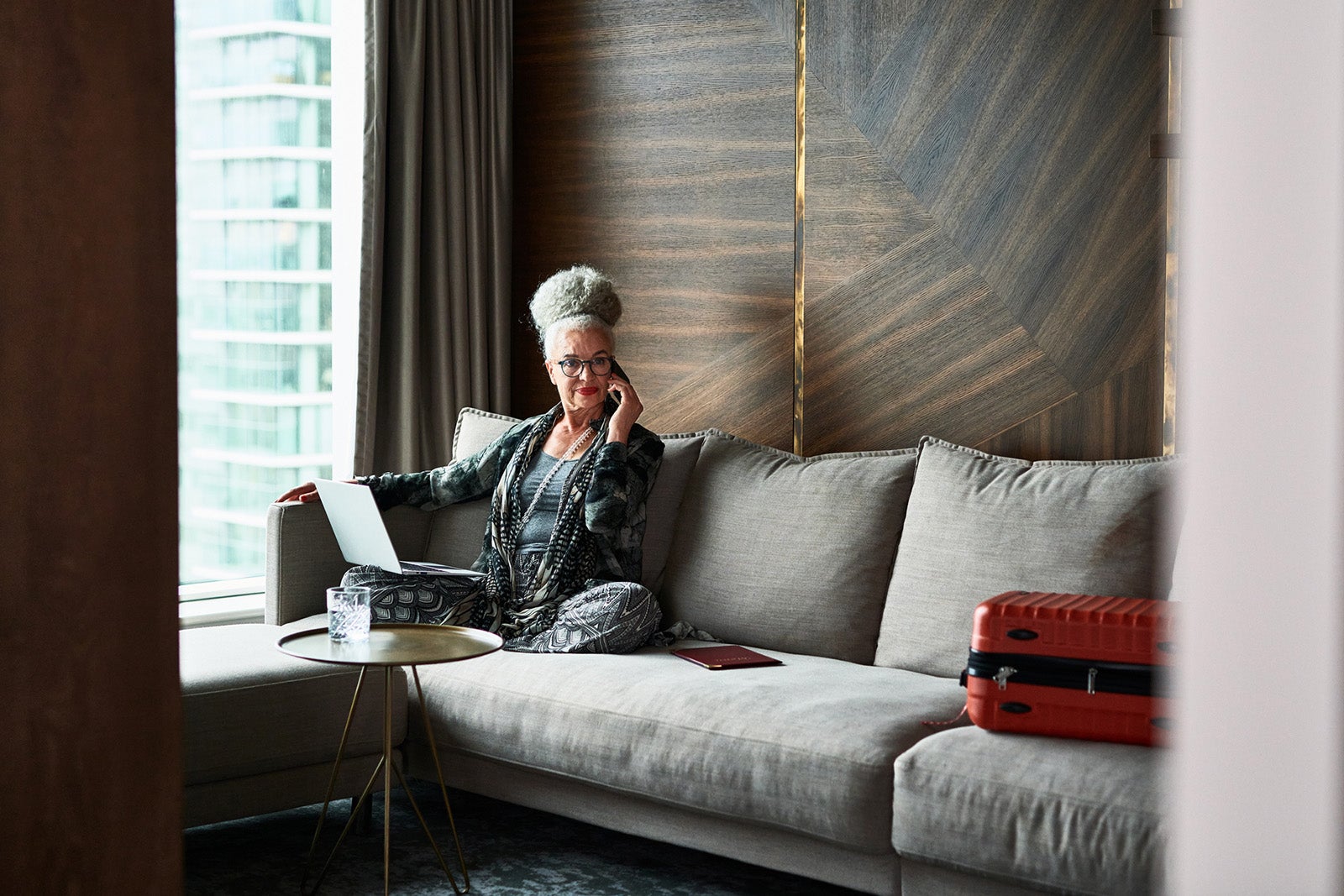 Traveling solo can be an entirely freeing experience during retirement. It allows you to open your mind, take your time and really appreciate all that you see. You can focus on things that make you happy, because it's your trip. No catering to someone else's schedule.
"I want to get up each day and do an adventure of my choosing," said Martha O'Leary, 66, a single retired high school language teacher in Connecticut and an avid traveler. "I can spend as much time as I want in a museum, and I can spend as much time as I want connecting to other people."
Solo travel in retirement can be both liberating and a little scary, especially if you're going alone for the first time. With that in mind, here are some tips for making the most of your solo travel experience.
Sign up for our daily newsletter
For more TPG news delivered each morning to your inbox, sign up for our daily newsletter.
Do your research
"I research everything before I go," said O'Leary, who travels frequently to her favorite city, Barcelona. "The research is the fun part."
As part of her trip planning, O'Leary follows Instagram and Facebook pages on Barcelona to learn about new museums, restaurants, exhibits and concerts. She also checks reviews of restaurants and other experiences on Tripadvisor and Yelp. An advantage of traveling solo, she notes, is you can often snag one last-minute ticket to popular events.
"I make a list of places to go, and I take it with me," she shared. "I can look at XYZ area and know which restaurant I want to target."
O'Leary plots out a route each morning, using Google maps and sometimes making her own maps to explore around town. She mostly uses public transportation, because it's an opportunity to meet locals.
In addition to travel guidebooks, the websites of country and local tourist offices can be useful in trip-planning. Travel agents can also be a highly useful resource.
Related: How to use your AARP discount on travel
Consider where to stay
You may think your only option is a hotel. However, you might also consider doing a small apartment via booking sites such as Airbnb, VRBO or Booking.com. In Barcelona, O'Leary rents a small apartment and eats out at restaurants most of the time. There is also the option of cooking your own meals — which forces you to shop and interact with local vendors; that can be a fun, social experience.
Booking a bedroom in the home of a local host or staying at a bed and breakfast can ensure some social interaction. It's my experience that hosts will deliver as many suggestions as you want about what to see and do in their city.
You will want to research the neighborhood where you plan to stay to make sure it's safe to be out alone at night. If you're in a hotel, as a safety precaution, ask the check-in person at the front desk not to announce your room number out loud. You don't want to attract attention as a solo traveler.
Related: All the time in the world: TPG's 8 best retirement trips
Book a table for one, or not
Dining alone doesn't need to be intimidating. Book a table near a window or outdoors so you can enjoy optimal people-watching opportunities while you wait for your meal. O'Leary brings her Kindle or smartphone to entertain her between courses.
If you want to be social, sit at the bar and order your meal there for instant camaraderie with the bartender and fellow patrons. I love sushi bars when I'm traveling alone, precisely for this purpose. If the restaurant offers a communal table, that can be a great opportunity to meet locals.
Also, don't be shy about asking other travelers or locals you meet on the road if they might like to share a meal. There is nothing that says you need to eat alone every day.
To assure you have dining companions, you may want to connect with others online such as the local hosts at Eat With or Traveling Spoon. The Alix Experience connects women travelers and has advice on solo-friendly dining spots in big cities around the world.
That said, one of my most memorable travel meals was alone in a fancy hotel in Paris. I procured treats including caviar and Champagne at the food hall at Bon Marché, returned to my room where I put a blanket on the floor, opened the windows to my French balcony, and picnicked with views of the Champs-Élysées.
Pack light
A great thing about traveling alone is that in your accommodations you won't have to jostle over drawer space and closet space. You also don't have to impress anyone but yourself by the way you dress (no one is going to tell you that you can't wear shorts to dinner except maybe the restaurant's dress code). Also, no one will remember what you wore last night.
A downside is that you must carry your own luggage. If you forget to bring something, there's no borrowing it from your roommate.
For safety reasons, you are best to dress inconspicuously. Leave your flashy jewelry and designer handbags at home, or safely tucked away in your hotel room.
You'll want to wear culturally appropriate clothing, which you can research online. Some churches in Europe, for instance, don't take kindly to tank tops.
Especially if you are visiting several destinations on your trip, packing light is recommended. Leave space, or bring an extra bag, for shopping. No one will be second-guessing what you choose to spend!
Related: 15 packing hacks for traveling with just a carry-on
Consider booking a group tour
If you want to have your own hotel room but would like to travel with other people, consider booking a group tour — a particularly popular option both for those who are single and those whose spouses were not interested in coming along on the trip.
Some tour companies make a particular effort to attract solo travelers; others specialize in solo travel. Search Google and you'll find lots of options. If you prefer similarly-aged travel companions, make sure to include the word "senior" or you may end up with a bunch of 20- or 30-somethings.
Overseas Adventure Travel (O.A.T.) has some 30,000 solo bookings a year on its tours, and more than half the company's travelers are women over age 60 — going to destinations that include Africa. Roads Scholar is another tour company with a large contingent of solo senior travelers.
In addition to solo pricing, the tour operator may offer a roommate-matching service for travelers wanting to cut costs.
Beware of operators who price their tours based on double occupancy, and who charge you for two if you travel solo. Look for those with single occupancy rates or a reduced single supplement (typically meaning you pay 25% to 75% more than two guests with double occupancy).
Take a cruise
Another social travel experience well-suited to solo travelers is cruising, but again with the proviso that you want to go with a cruise line with a single occupancy rate (usually in solo cabins designed for one) or reduced single supplement.
Cruise lines with solo cabins include Norwegian Cruise Line, which on select ships has a Studio complex of cabins cleverly designed for one passenger with shared access to a private lounge. Royal Caribbean also has solo cabins on its newer ships, including some with balconies.
Holland America includes cabins for one person in a few categories. If requested, the line will connect solo travelers by inviting them to dine together at a table in the main dining room. Other good choices for solo travelers include Cunard, Virgin Voyages, Oceania Cruises and, ultra-luxury brand Silversea.
On any ship with open dining seating, solo travelers will feel comfortable. Don't be surprised if you get "adopted" — as happened to me on a river cruise in Europe where a small group of friends always had a seat waiting for me. Lines such as AmaWaterways, Uniworld and Avalon Waterways are well-versed in catering to solo travelers.
Small ships and expedition ships are also good choices, by nature of their intimate size and convivial environments. Lindblad Expeditions and Hurtigruten do frequent sales waiving the single supplement on select sailings.
Related: 7 best cruise lines for seniors and baby boomers
Make sure you have back-up at home
Particularly important for solo travelers is that someone knows where you are in case there's an emergency. Plan to leave your itinerary including flights and hotels with a friend or relative (with a copy of your credit card numbers, passport and COVID-19 vaccine record too, just in case you lose them while on the road).
To stay in touch, check with your smartphone provider to see if you have, or can purchase reasonably priced international service. If you are staying in one country for a long period, consider buying a local SIM card.
Avoid international roaming charges by using What's App, Facebook Messenger or Skype via Wi-Fi to stay in touch.
It's a good idea to let the U.S. Department of State know where you're traveling via the Smart Traveler Enrollment Program (STEP), which will deliver alerts should any emergency situations happen in the countries.
There are apps that you may want to use for your personal safety. TripWhistle follows your location and provides emergency numbers for police and emergency medical services.
Be open to meeting people
Just because you're traveling alone doesn't mean you need to be alone. Strike up conversations with locals while sharing a park bench or waiting for public transportation. Ask a shop clerk in Italy where to find the best pasta, and you may be in for a long discussion.
O'Leary feels she gets to talk to more people by being a solo traveler. "You can connect with people more if you are by yourself and not in a group because you can take the time to talk to people," she explained.
If you want to join a group of people for a short time, look for free local walking tours offered by museums or historical societies or other tours sold by a local guide.
Bottom line
The joys of solo travel are many, from not listening to someone else snore to doing everything at your own pace. Do your research, plan out your trip and go for it.